Adrian Percy Joins Finistere Ventures as CTO
Finistere Expands Tech Leadership and Adds Presence in Research Triangle, NC — Arama Kukutai Interviews Adrian Percy to Discuss His New Role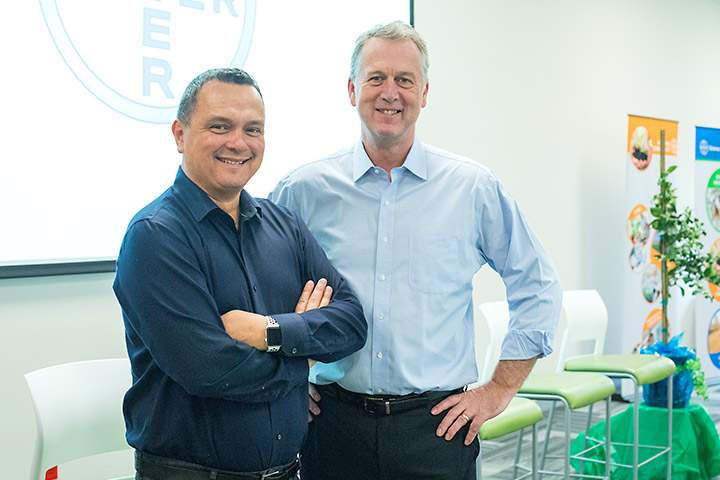 Industry luminary Adrian Percy, PhD, the former head of R&D for the Crop Science Division of Bayer, recently joined Finistere Ventures as Chief Technology Officer.
In his new role, he will provide strategic, technical and regulatory guidance for current portfolio companies. He will also support Finistere's continued investment efforts, working with the team to identify and evaluate potential opportunities.
He will be joining the Boards of two Finistere-backed companies, BioLumic and Hi Fidelity Genetics, and will play a pivotal role in helping shape their ongoing research and development strategies, as well as supporting their partnership and commercialization efforts.
Kukutai: Today, I have the pleasure of officially welcoming Adrian to our Finistere Ventures team as our Chief Technology Officer. We've worked together in a variety of capacities for many years, Adrian, and the entire Finistere team has come to value your perspective on the agriculture evolution. Let's talk a bit about why it was the right time to join our team.
Percy: I've always enjoyed working closely with you, Arama, as well as with Spencer and the entire Finistere team. Finistere's successful track record in the ag and food space speaks for itself, and I'm excited to be joining such a respected and experienced investing team. I think Finistere's philosophy about the importance of collaboration – be it with growers, other investors and entrepreneurs, major corporate entities or even governments – aligns well with my core belief that the advancement of modern agriculture and environmental protection depends on establishing broad and effective partnerships.
As you know, I was also very attracted to Finistere's global footprint and the ability to identify new opportunities across many different geographies. Agriculture is a global business with many different facets. Clearly, innovation can emerge almost anywhere in this sector, and Finistere is one of the few companies willing and able to capture it.
Beyond how much I enjoy working with all of you, however, the opportunity to work more closely with the current Finistere portfolio was something I simply could not pass up. Technology will play an increasing role in food and sustainability initiatives. Knowing many of your exceptional portfolio teams from my time at Bayer, I'm looking forward to collaborating with them on an even deeper level as they build companies that will help drive the future of food and ag.
Kukutai: I know our portfolio companies are excited to continue to work with you as well, Adrian. You mentioned your previous work with them at Bayer. Can you share a bit about your transition?
Percy: I had a tremendously rewarding career at Bayer and was privileged to work with absolutely amazing scientists and technologies over the course of over 25 years with the company. From that vantagepoint, I've been able to see firsthand the incredible surge in agtech thanks to the emergence of innovative companies, including BioLumic and Hi Fidelity Genetics, as the industry starts to explore new technology areas and enjoys the benefit of increased investment attention.
We need to completely transform our agricultural and food production systems so we can ensure food security for all, meet evolving consumer demands and conserve our planet's precious resources for many generations to come. I am excited to continue to contribute to this ecosystem by helping talented and passionate entrepreneurs drive meaningful change in the food and agriculture space through technology innovations.
Like I've said before, I'm changing lanes but certainly not directions. I'm in this agriculture adventure for the long haul!
Kukutai: Well that is certainly good to hear, Adrian! We'll try to keep you busy with our investment thesis so your adventure can continue. I think your experience working in and alongside ag giants will provide valuable insight for our portfolio companies as they try to take new products to market. Tell us more about your thoughts on the current transformation at play, the emergence of a new ag and foodtech ecosystem, and how startups can best benefit from the increasing investor appetite.
Percy: The emergence of this sector has occurred at a tremendously opportune time as we face the challenge of an exploding population to feed, fuel and clothe with increasingly limited resources available to us – be they land, soil, water, nutrients or labor.
Major ag corporations certainly can't solve for this on their own. It will take a coalition—including new entrants, growers and governments—to meet this challenge. And I'm a firm believer that technology will have to be the driver. There is a vast array of new, exciting technologies out there that can be applied to increasing agricultural productivity, to safeguarding environmental health and to meet evolving consumer preferences.
For instance, I see a significant opportunity to bring effective new technology to growers that will either replace, complement or simply make more efficient existing crop protection methods. This will be especially important for existing crop protection tools that have generated significant public concern and are consequently hampered by high regulatory hurdles in addition to other factors such as increased resistance to their activity in the field. Prime opportunities include highly efficacious biosolutions with improved environmental safety and completely new approaches to improve yield and increase natural plant resistance to disease and pests, such as the UV technology being developed by BioLumic.
I am also excited about advanced breeding tools such as those being developed by Hi Fidelity Genetics. The application of computational breeding approaches can help identify new agronomic and quality traits in a much more precise manner, thereby speeding up the work of plant breeders and providing new, more efficient seed varieties to the benefit of both growers and consumers alike.
All of these technologies can be applied more effectively and efficiently on the farm through the use of better above- and below-ground sensors, application tools and enabling digital platforms. Today's growers can customize their operations to a degree that we could not have even imagined a few years ago. Who knows what the next ten years will bring, but it will be exciting!
Of course, none of these technologies will be successful unless they can intelligently negotiate regulatory requirements, gain market access, offer a clear ROI to growers and, ultimately, enjoy widespread deployment on the farm. It is a hard fact of the start-up world that many early stage companies fail – no matter how amazing their technology may be. Having said that, however, I am confident that the Finistere team can provide the support and guidance needed to help of portfolio of companies overcome common hurdles. Benefiting from our broad set of experiences and competencies, our portfolio companies have an incredible chance of success!
Kukutai: I'm so glad we share a passion for using technology advances to seed the future of ag and meet global food challenges, especially in regard to investing in environmental sustainability stewards. I know we also agree that regulatory forces will likely drive adoption when it comes to important issues like water rights, fertilizer runoff, crop protection residue and registration, gene editing, and more. As you mentioned, it is hard to imagine what our industry might look like in ten years, but can you share your prediction for what we might expect and what kind of regulatory changes we might see?
Percy: I hope and expect to see this sector and ecosystem mature as investment interest continues to deepen and diversify. I think we will see more new and exciting technologies emerge, both from within ag and as crossovers from other sectors, such as pharma. The food chain really appears to be shortening with consumer preferences, including a demand for more transparency and traceability in our food chain, which will increasingly drive behavior on the farm.
In today's world, public sentiment drives political and regulatory policy to a large degree. The rejection of GM technology in Europe, the general pushback on crop protection chemistry and concerns over the environmental impact of agriculture all have, or will have, a strong influence on the regulatory landscape in the years ahead. However, this also provides an enormous opportunity for companies bringing new technology to the marketplace that address these concerns. For instance, I expect to see technologies that provide meaningful alternatives to the use of synthetic fertilizers and/or crop protection become extremely appealing to investors moving forward.
On the crossover note, I also strongly believe that a well-funded and agile startup space working on such important and inspiring topics will become more and more attractive to talent from outside of the sector. However, it will also be a magnet to some longstanding industry players in the big ag sphere who will want to engage and be a part of leading the next era of ag. I am a prime example of that!
One of the developments that excites me the most though is the emergence of agtech hubs and foodtech innovation throughout the world. I am looking forward to working with the Finistere team to cultivate innovation in both traditional ag hubs like the United States and Israel, as well as rising centers of activity such as Australia/New Zealand, Ireland and Latin America. To that end, I think that my location in the Research Triangle area of North Carolina will not just serve as a focal point for Finistere's activities on the East Coast of the United States, but also serve as a strategic bridge to our activities in Europe and beyond.
Kukutai: Thank you for sharing your thoughts, Adrian. As you know, we are committed to changing the food value chain by building Finistere's presence in centers of agtech excellence around the globe and actively investing in game-changing companies across the agtech/foodtech ecosystem. Deepening our expert bench and growing our U.S. footprint with you based in the Research Triangle area will help create critical connections for both nimble startups and proven ag players as they build the relationships needed for global growth.