Feeding 10 billion without increasing greenhouse gas emissions—the technology investment opportunity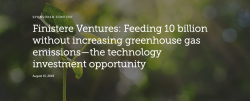 Agriculture and food production are the single largest contributors to human green house gas emissions.  I the latest of our blog series in partnership with Pitchbook Data, Finistere Ventures Managing Partner Arama Kukutai and Senior Advisor Kyle Datta opine on the role of agtech within the efforts to reduce the impact of food production on our global climate.
Read the full article here!