Lessons for crop protection from pharma's small molecules discovery space
by Ingrid Fung, Investment Director
Crop protection is one of the most highly invested segments in agtech, attracting some $4.5 billion in disclosed venture capital funding between 2010 and 2020, with $1.2 billion in financings across 39 rounds for the first three quarters of last year alone. The seed of this enthusiasm for the sector was in large part planted by significant exit activity earlier in the last decade. Acquisitions like those of DevGen (completed 2013, $522 million), AgraQuest (2012, $425 million), and Becker Underwood (2012, $1 billion) made headlines and culminated in nearly $2 billion in combined exit value. Since 2015, though, exits in this sector have slowed down, despite a significant uptick in new investments.
What's been driving this lull in exits and where does crop protection head from here?
Venture funding in crop protection proceeds at pace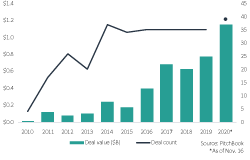 Exits in crop protection have dried up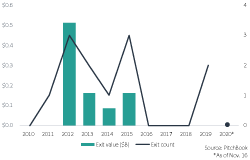 The crop protection industry faces serious challenges—expiring patents, intensifying regulations, and diminishing returns on R&D spending have plagued the industry over the last two decades. Eroding margins and thinning discovery pipelines have in turn resulted in intensive industry consolidation, as innovative ag-chem corporates seek efficiencies through mergers. As these companies focused greater attention on channel and sales, market observers anticipated an increase in acquisitions to insource innovations. Afterall, this was largely the approach that pharmaceutical companies undertook to avoid the post-patent cliff that loomed about a decade ago.
However, the anticipated acquisition uptick never materialized. Despite increasing venture capital investment since the start of 2015 and the significant industry need for innovation, few exits across the crop protection space have closed—and none with significant disclosed values. This result is highly concerning in light of the roughly $3.8 billion invested into crop protection startups over the same period. The cause of this exit drought becomes clear upon analysis, though: a misalignment between crop protection investment and acquisition interest.
Analyzing the exit drought
Between 2010 and 2020, 63% of capital invested and 92% of all deals financed within crop protection were allocated to startups focused on the development of standalone technologies, usually within the biologicals space. Only 8% of financings and 37% of capital deployed in crop protection were financings of discovery-focused startups. While this increased to 26% of deals financed in 2020, discovery deals are still woefully rare within agtech VC.
Initially, acquisition activity primarily focused on those platform companies with strong innovation pipelines. These acquisitions served to bolster innovation at ag corporates, particularly as internal R&D investment started to fade, intensifying the need to buy platforms as opposed to picking up standalone technologies. However, as investments into crop protection over the course of the past decade started to increasingly involve deals that focused on companies with standalone technologies, by the latter half of the decade, fewer startups possessed the robust pipelines desired by corporate acquirers.
Share of 2020 VC funding (#) in crop protection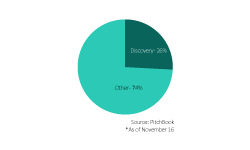 Additionally, while biological crop protection represented only 6% of the global crop protection market, intensifying regulatory and environmental considerations drove investors to focus 99% of all venture capital deployed into crop protection on biological startups. Meanwhile, small molecule or synthetic discovery platforms represented around 1% of capital deployed into the crop protection sector between 2010 and 2020.
Due to in-field performance and cost advantages, though, synthetic crop chemistries still dominate the global market for crop protection products, representing over 94% of all sales by value. Taken together, the exit drought experienced within crop protection between 2015 and 2020 can likely be attributed to a focus by investors on a combination of standalone technology companies and biological chemistries that failed to compete on a cost and performance basis.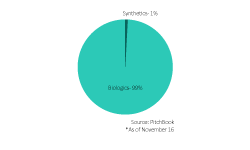 Where do we go now?
Despite the lack of exit activity in recent years, venture-scale returns within crop protection still exist. However, companies and investors alike will need to focus on addressing major bottlenecks within crop protection discovery—a route through which the role of small molecule discovery in the pharmaceutical space provides a model. Namely, these challenges are:
New targetdiscovery: Improving target discovery will be important to the future of crop protection. Currently, discovery of new targets is a laborious process that relies heavily on basic research and academic discovery.
Diminishing returns: Fewer leads are entering the development pipeline by year due to the limits of existing chemical libraries. Technologies that enable the efficient exploration of the novel chemical space or enable the identification of complex targets will be needed.
Cost of goods:Complex molecules are often difficult and expensive to manufacture, making their use within agriculture challenging if not impossible. Technologies that can identify cost-efficient synthesis options will be important to developing novel products in crop protection going forward.
Regulatory challenges:Intensifying regulations are resulting in the loss of actives from the market, increasing costs, and creating costly late-stage failures. Developing technologies that enable the early screening of leads for off-target effects, environmental persistence, and other undesirable characteristics without the need for extensive biological testing would revolutionize the crop protection discovery process. Enabling technologies in delivery and formulation that reduce the volume of application will also be important moving forward.
Technologies that could address these pain points have been developed for and implemented within the pharmaceutical discovery space. Today, several startups are putting these technologies into practice for crop protection discovery. For example, Finistere portfolio company Enko Chem aims to expand the pipeline of crop protection leads by probing novel chemical spaces using DNA-encoded libraries—a technology well established in the pharmaceutical world. Similarly, EvoGene spinout AgPlenus uses in silico modeling to predict target-ligand interactions to identify crop protection leads without costly and onerous biological screening. Both companies are applying well-established technologies and models of discovery used in the pharmaceutical realm to improve discovery practices within a crop protection context.
We are also starting to see ag-chem majors and agtech investors take an interest in the application of pharma technologies to crop protection discovery. For example, Bayer Leaps and pharma company Arvinas launched their joint venture Oerth Bio in 2019 to explore the application of Arvina's PROTAC® technology in agriculture. FMC and Cyclica, an AI and computational biophysics company, also announced a partnership in 2020 to undertake discovery for new crop protection chemistries using the Cyclica platform. Finally, leading agtech investors DCVC and Bayer Leaps have backed Recursion Biopharma, a digital biology company. These moves suggest that the future of crop protection discovery seems solidly intertwined with pharmaceutical discovery.
And where crop protection experienced an exit drought, the pharmaceutical industry has seen active investment and activity over the last decade. Small molecule discovery companies, the industry's subsegment most analogous to crop protection discovery, had 21 of these exits with a median exit value of $183 million. At the same time, both deal counts and total investment dollars allocated to small molecule discovery platforms have been similar to those of crop protection, even as small molecule discovery netted 1.75x the aggregate exit value of crop protection between 2010 and 2020 at some $3.5 billion.
Exit strength continues to drive VC into pharma discovery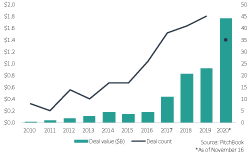 Conclusions
The misalignment that took shape within crop protection between investor and industry interests over the last decade resulted in a slowing of exit activity. As biological crop protection technologies have proven tougher to render practicable than expected, renewed focus and investment should be placed upon discovery platforms in the small molecules space. We believe significant opportunities exist to mirror successes seen within small molecule discovery in pharmaceuticals. In silico drug discovery platforms represent an area of particular interest within this context. In just a few short years, this segment has grown to over 150 companies, while the translation of pharmaceutical technologies into crop protection will almost certainly drive a new generation of crop protection startups over the coming decade.